|   Anke (encarsia)   |   Also available in: Deutsch 
Further testing of the navigation compass BeeLine
See also my introductory BeeLine article.
BeeLine lives. There has been made some nice development progress. You could almost assume somebody from the team read my first article because nearly everything mentioned in the improvement section has been realized.
Another positive aspect is communication. The team reacts very fast on interactions on Twitter and via e-mail. It's quite exhilaranting to experience that there are real people working behind a product/brand...(yes, I'm looking at you, Google).
My four points of criticism were:
lack of practicality on waypoint handling

accidentally finish rides

unclear button assignments

wish for better route functionalities (import)
Scrolling through route waypoints is accomplished by pressing the N/S buttons. If you reach the last waypoint you can end your ride by confirming the "Arrived?" question.
There still is no information on waypoint progress on the device but it is shown in the app.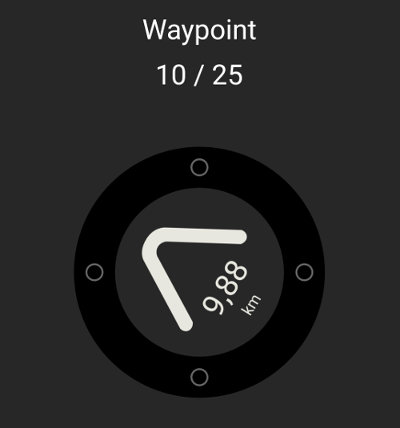 If "Automatic Waypoint" is activated in the settings the next waypoint will be selected when passing the current one less than 100 meters. If you keep a distance larger than that Beeline will not change the selected waypoint even if another waypoint is closer.
When choosing automatic waypoint routing there always remains the option to manually skip waypoints.
I regard this to be a real killer feature which makes routing simple and precise while remaining discreet and in no way annoying.
Not only can a route be created via BeeLine app but also be imported from a GPX file. In doing so the track will be simplified and (significant) changes of direction will be converted into waypoints. Two waypoints are always connected by a straight line (beeline).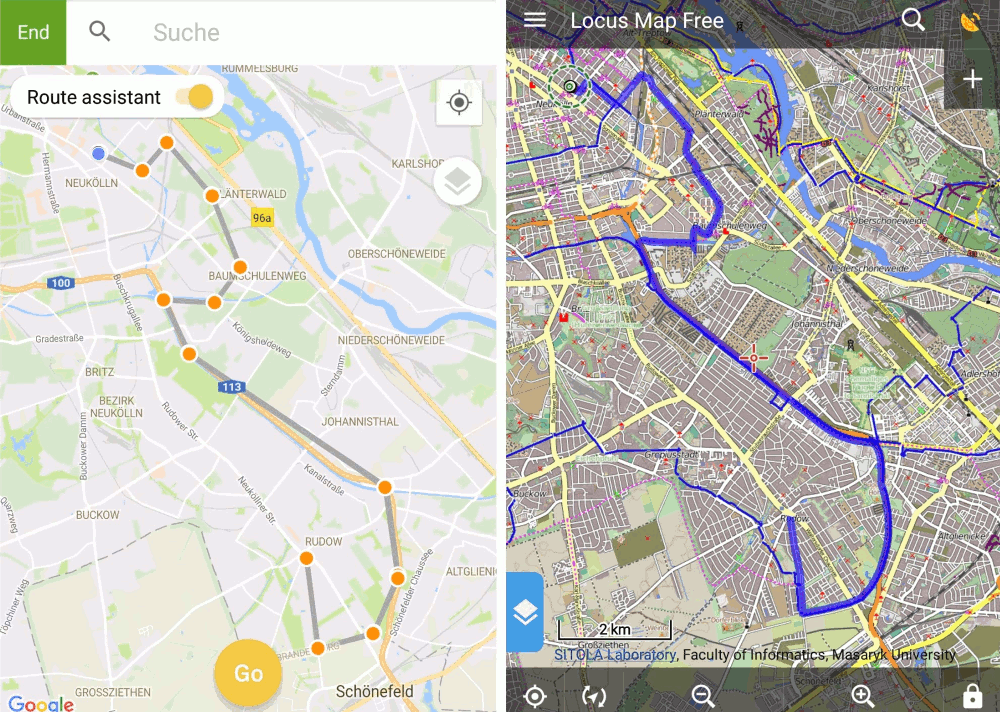 As you can see this works pretty nice. This route conversion provides waypoints for relevant route details (important changes of direction, crossroads, bridges) without determining a certain track layout.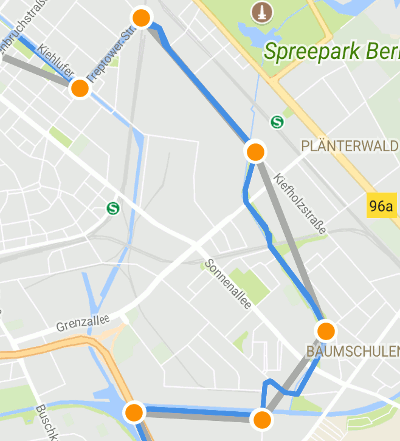 To avoid this article to be suspected of being some sponsored shit I reserved some space for my personal feature requests:
BeeLine has developed great and I will use it more frequently now. By expanding route functionalities (create, import, save, automatic routing) the device has become a really interesting and useful tool rather than just being a gadget.
Of course BeeLine still depends on a smartphone connection providing location service and Bluetooth. It cannot replace a standalone navigation system. Therefore battery consumption of the phone has to be considered on long tours. Power banks exist.
Comment on