|   Anke (encarsia)   |   Also available in: Deutsch 
Menus, toolbars and statusbars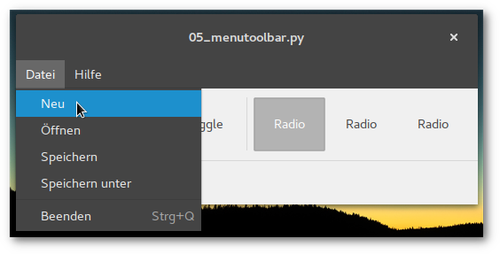 Toolbars contain different widgets like buttons, togglebuttons, radiobuttons oder (sub) menus. Generating and editing toolbars is analogue to menus.
The purpose of statusbars is to show notifications or useful information. Messages are treated like a list, the statusbar widget provides the functions push and pop.
To send a message to the statusbar you will just need the function
widget

.

push

(

content_id

,

message

)



If messages are exclusively shown "on top" the content_id can be a random number, like 0.
<?xml version="1.0" encoding="UTF-8"?>




<!-- Generated with glade 3.20.0 -->




<interface>


  

<requires

 

lib=

"gtk+"

 

version=

"3.20"

/>


  

<object

 

class=

"GtkWindow"

 

id=

"window"

>


    

<property

 

name=

"can_focus"

>

False

</property>


    

<property

 

name=

"resizable"

>

False

</property>


    

<signal

 

name=

"destroy"

 

handler=

"on_window_destroy"

 

swapped=

"no"

/>


    

<child>


      

<object

 

class=

"GtkBox"

>


        

<property

 

name=

"visible"

>

True

</property>


        

<property

 

name=

"can_focus"

>

False

</property>


        

<property

 

name=

"margin_bottom"

>

9

</property>


        

<property

 

name=

"orientation"

>

vertical

</property>


        

<child>


          

<object

 

class=

"GtkMenuBar"

>


            

<property

 

name=

"visible"

>

True

</property>


            

<property

 

name=

"can_focus"

>

False

</property>


            

<child>


              

<object

 

class=

"GtkMenuItem"

>


                

<property

 

name=

"visible"

>

True

</property>


                

<property

 

name=

"can_focus"

>

False

</property>


                

<property

 

name=

"label"

 

translatable=

"yes"

>

_Datei

</property>


                

<property

 

name=

"use_underline"

>

True

</property>


                

<child

 

type=

"submenu"

>


                  

<object

 

class=

"GtkMenu"

>


                    

<property

 

name=

"visible"

>

True

</property>


                    

<property

 

name=

"can_focus"

>

False

</property>


                    

<child>


                      

<object

 

class=

"GtkImageMenuItem"

>


                        

<property

 

name=

"label"

>

gtk-new

</property>


                        

<property

 

name=

"visible"

>

True

</property>


                        

<property

 

name=

"can_focus"

>

False

</property>


                        

<property

 

name=

"use_underline"

>

True

</property>


                        

<property

 

name=

"use_stock"

>

True

</property>


                        

<signal

 

name=

"activate"

 

handler=

"on_nothing_here"

 

swapped=

"no"

/>


                      

</object>


                    

</child>


                    

<child>


                      

<object

 

class=

"GtkImageMenuItem"

>


                        

<property

 

name=

"label"

>

gtk-open

</property>


                        

<property

 

name=

"visible"

>

True

</property>


                        

<property

 

name=

"can_focus"

>

False

</property>


                        

<property

 

name=

"use_underline"

>

True

</property>


                        

<property

 

name=

"use_stock"

>

True

</property>


                        

<signal

 

name=

"activate"

 

handler=

"on_nothing_here"

 

swapped=

"no"

/>


                      

</object>


                    

</child>


                    

<child>


                      

<object

 

class=

"GtkImageMenuItem"

>


                        

<property

 

name=

"label"

>

gtk-save

</property>


                        

<property

 

name=

"visible"

>

True

</property>


                        

<property

 

name=

"can_focus"

>

False

</property>


                        

<property

 

name=

"use_underline"

>

True

</property>


                        

<property

 

name=

"use_stock"

>

True

</property>


                        

<signal

 

name=

"activate"

 

handler=

"on_nothing_here"

 

swapped=

"no"

/>


                      

</object>


                    

</child>


                    

<child>


                      

<object

 

class=

"GtkImageMenuItem"

>


                        

<property

 

name=

"label"

>

gtk-save-as

</property>


                        

<property

 

name=

"visible"

>

True

</property>


                        

<property

 

name=

"can_focus"

>

False

</property>


                        

<property

 

name=

"use_underline"

>

True

</property>


                        

<property

 

name=

"use_stock"

>

True

</property>


                        

<signal

 

name=

"activate"

 

handler=

"on_nothing_here"

 

swapped=

"no"

/>


                      

</object>


                    

</child>


                    

<child>


                      

<object

 

class=

"GtkSeparatorMenuItem"

>


                        

<property

 

name=

"visible"

>

True

</property>


                        

<property

 

name=

"can_focus"

>

False

</property>


                      

</object>


                    

</child>


                    

<child>


                      

<object

 

class=

"GtkImageMenuItem"

>


                        

<property

 

name=

"label"

>

gtk-quit

</property>


                        

<property

 

name=

"visible"

>

True

</property>


                        

<property

 

name=

"can_focus"

>

False

</property>


                        

<property

 

name=

"use_underline"

>

True

</property>


                        

<property

 

name=

"use_stock"

>

True

</property>


                        

<signal

 

name=

"activate"

 

handler=

"on_window_destroy"

 

swapped=

"no"

/>


                        

<accelerator

 

key=

"q"

 

signal=

"activate"

 

modifiers=

"GDK_CONTROL_MASK"

/>


                      

</object>


                    

</child>


                  

</object>


                

</child>


              

</object>


            

</child>


            

<child>


              

<object

 

class=

"GtkMenuItem"

>


                

<property

 

name=

"visible"

>

True

</property>


                

<property

 

name=

"can_focus"

>

False

</property>


                

<property

 

name=

"label"

 

translatable=

"yes"

>

_Hilfe

</property>


                

<property

 

name=

"use_underline"

>

True

</property>


                

<child

 

type=

"submenu"

>


                  

<object

 

class=

"GtkMenu"

>


                    

<property

 

name=

"visible"

>

True

</property>


                    

<property

 

name=

"can_focus"

>

False

</property>


                    

<child>


                      

<object

 

class=

"GtkImageMenuItem"

 

id=

"menu_info"

>


                        

<property

 

name=

"label"

>

gtk-about

</property>


                        

<property

 

name=

"visible"

>

True

</property>


                        

<property

 

name=

"can_focus"

>

False

</property>


                        

<property

 

name=

"use_underline"

>

True

</property>


                        

<property

 

name=

"use_stock"

>

True

</property>


                        

<signal

 

name=

"activate"

 

handler=

"on_info_button_clicked"

 

swapped=

"no"

/>


                        

<accelerator

 

key=

"i"

 

signal=

"activate"

 

modifiers=

"GDK_CONTROL_MASK"

/>


                      

</object>


                    

</child>


                  

</object>


                

</child>


              

</object>


            

</child>


          

</object>


          

<packing>


            

<property

 

name=

"expand"

>

False

</property>


            

<property

 

name=

"fill"

>

True

</property>


            

<property

 

name=

"position"

>

1

</property>


          

</packing>


        

</child>


        

<child>


          

<object

 

class=

"GtkToolbar"

>


            

<property

 

name=

"visible"

>

True

</property>


            

<property

 

name=

"can_focus"

>

False

</property>


            

<property

 

name=

"toolbar_style"

>

both

</property>


            

<child>


              

<object

 

class=

"GtkToolButton"

>


                

<property

 

name=

"visible"

>

True

</property>


                

<property

 

name=

"can_focus"

>

False

</property>


                

<property

 

name=

"label"

 

translatable=

"yes"

>

toolbutton

</property>


                

<property

 

name=

"use_underline"

>

True

</property>


                

<property

 

name=

"stock_id"

>

gtk-yes

</property>


              

</object>


              

<packing>


                

<property

 

name=

"expand"

>

False

</property>


                

<property

 

name=

"homogeneous"

>

True

</property>


              

</packing>


            

</child>


            

<child>


              

<object

 

class=

"GtkMenuToolButton"

>


                

<property

 

name=

"visible"

>

True

</property>


                

<property

 

name=

"can_focus"

>

False

</property>


                

<property

 

name=

"label"

 

translatable=

"yes"

>

menu

</property>


                

<property

 

name=

"use_underline"

>

True

</property>


                

<property

 

name=

"stock_id"

>

gtk-print

</property>


                

<child

 

type=

"menu"

>


                  

<object

 

class=

"GtkMenu"

>


                    

<property

 

name=

"visible"

>

True

</property>


                    

<property

 

name=

"can_focus"

>

False

</property>


                    

<child>


                      

<object

 

class=

"GtkMenuItem"

>


                        

<property

 

name=

"visible"

>

True

</property>


                        

<property

 

name=

"can_focus"

>

False

</property>


                        

<property

 

name=

"label"

 

translatable=

"yes"

>

submenuitem 1

</property>


                        

<property

 

name=

"use_underline"

>

True

</property>


                      

</object>


                    

</child>


                    

<child>


                      

<object

 

class=

"GtkMenuItem"

>


                        

<property

 

name=

"visible"

>

True

</property>


                        

<property

 

name=

"can_focus"

>

False

</property>


                        

<property

 

name=

"label"

 

translatable=

"yes"

>

submenuitem 2

</property>


                        

<property

 

name=

"use_underline"

>

True

</property>


                      

</object>


                    

</child>


                  

</object>


                

</child>


              

</object>


              

<packing>


                

<property

 

name=

"expand"

>

False

</property>


                

<property

 

name=

"homogeneous"

>

True

</property>


              

</packing>


            

</child>


            

<child>


              

<object

 

class=

"GtkToggleToolButton"

>


                

<property

 

name=

"visible"

>

True

</property>


                

<property

 

name=

"can_focus"

>

False

</property>


                

<property

 

name=

"label"

 

translatable=

"yes"

>

Toggle

</property>


                

<property

 

name=

"use_underline"

>

True

</property>


              

</object>


              

<packing>


                

<property

 

name=

"expand"

>

False

</property>


                

<property

 

name=

"homogeneous"

>

True

</property>


              

</packing>


            

</child>


            

<child>


              

<object

 

class=

"GtkSeparatorToolItem"

>


                

<property

 

name=

"visible"

>

True

</property>


                

<property

 

name=

"can_focus"

>

False

</property>


              

</object>


              

<packing>


                

<property

 

name=

"expand"

>

False

</property>


                

<property

 

name=

"homogeneous"

>

True

</property>


              

</packing>


            

</child>


            

<child>


              

<object

 

class=

"GtkRadioToolButton"

 

id=

"tb_radio1"

>


                

<property

 

name=

"visible"

>

True

</property>


                

<property

 

name=

"can_focus"

>

False

</property>


                

<property

 

name=

"label"

 

translatable=

"yes"

>

Radio

</property>


                

<property

 

name=

"use_underline"

>

True

</property>


                

<property

 

name=

"active"

>

True

</property>


              

</object>


              

<packing>


                

<property

 

name=

"expand"

>

False

</property>


                

<property

 

name=

"homogeneous"

>

True

</property>


              

</packing>


            

</child>


            

<child>


              

<object

 

class=

"GtkRadioToolButton"

>


                

<property

 

name=

"visible"

>

True

</property>


                

<property

 

name=

"can_focus"

>

False

</property>


                

<property

 

name=

"label"

 

translatable=

"yes"

>

Radio

</property>


                

<property

 

name=

"use_underline"

>

True

</property>


                

<property

 

name=

"active"

>

True

</property>


                

<property

 

name=

"group"

>

tb_radio1

</property>


              

</object>


              

<packing>


                

<property

 

name=

"expand"

>

False

</property>


                

<property

 

name=

"homogeneous"

>

True

</property>


              

</packing>


            

</child>


            

<child>


              

<object

 

class=

"GtkRadioToolButton"

>


                

<property

 

name=

"visible"

>

True

</property>


                

<property

 

name=

"can_focus"

>

False

</property>


                

<property

 

name=

"label"

 

translatable=

"yes"

>

Radio

</property>


                

<property

 

name=

"use_underline"

>

True

</property>


                

<property

 

name=

"active"

>

True

</property>


                

<property

 

name=

"group"

>

tb_radio1

</property>


              

</object>


              

<packing>


                

<property

 

name=

"expand"

>

False

</property>


                

<property

 

name=

"homogeneous"

>

True

</property>


              

</packing>


            

</child>


          

</object>


          

<packing>


            

<property

 

name=

"expand"

>

False

</property>


            

<property

 

name=

"fill"

>

True

</property>


            

<property

 

name=

"position"

>

2

</property>


          

</packing>


        

</child>


        

<child>


          

<object

 

class=

"GtkSeparator"

>


            

<property

 

name=

"visible"

>

True

</property>


            

<property

 

name=

"can_focus"

>

False

</property>


          

</object>


          

<packing>


            

<property

 

name=

"expand"

>

False

</property>


            

<property

 

name=

"fill"

>

True

</property>


            

<property

 

name=

"position"

>

3

</property>


          

</packing>


        

</child>


        

<child>


          

<object

 

class=

"GtkStatusbar"

 

id=

"statusbar"

>


            

<property

 

name=

"visible"

>

True

</property>


            

<property

 

name=

"can_focus"

>

False

</property>


            

<property

 

name=

"margin_left"

>

10

</property>


            

<property

 

name=

"margin_right"

>

10

</property>


            

<property

 

name=

"margin_start"

>

10

</property>


            

<property

 

name=

"margin_end"

>

10

</property>


            

<property

 

name=

"margin_top"

>

6

</property>


            

<property

 

name=

"margin_bottom"

>

6

</property>


            

<property

 

name=

"orientation"

>

vertical

</property>


            

<property

 

name=

"spacing"

>

2

</property>


          

</object>


          

<packing>


            

<property

 

name=

"expand"

>

False

</property>


            

<property

 

name=

"fill"

>

True

</property>


            

<property

 

name=

"position"

>

4

</property>


          

</packing>


        

</child>


      

</object>


    

</child>


    

<child>


      

<placeholder/>


    

</child>


  

</object>


  

<object

 

class=

"GtkAboutDialog"

 

id=

"about_dialog"

>


    

<property

 

name=

"can_focus"

>

False

</property>


    

<property

 

name=

"title"

 

translatable=

"yes"

>

Info

</property>


    

<property

 

name=

"resizable"

>

False

</property>


    

<property

 

name=

"modal"

>

True

</property>


    

<property

 

name=

"window_position"

>

center-on-parent

</property>


    

<property

 

name=

"destroy_with_parent"

>

True

</property>


    

<property

 

name=

"type_hint"

>

dialog

</property>


    

<property

 

name=

"deletable"

>

False

</property>


    

<property

 

name=

"transient_for"

>

window

</property>


    

<property

 

name=

"program_name"

>

Info Dialog

</property>


    

<property

 

name=

"version"

>

0.1

</property>


    

<property

 

name=

"comments"

 

translatable=

"yes"

>

Platz für mehr Blabla

</property>


    

<property

 

name=

"website"

>

www.example.com

</property>


    

<property

 

name=

"logo_icon_name"

>

image-missing

</property>


    

<child

 

internal-child=

"vbox"

>


      

<object

 

class=

"GtkBox"

>


        

<property

 

name=

"can_focus"

>

False

</property>


        

<property

 

name=

"orientation"

>

vertical

</property>


        

<property

 

name=

"spacing"

>

2

</property>


        

<child

 

internal-child=

"action_area"

>


          

<object

 

class=

"GtkButtonBox"

>


            

<property

 

name=

"can_focus"

>

False

</property>


            

<property

 

name=

"layout_style"

>

end

</property>


            

<child>


              

<object

 

class=

"GtkButton"

 

id=

"close_button"

>


                

<property

 

name=

"label"

>

gtk-close

</property>


                

<property

 

name=

"visible"

>

True

</property>


                

<property

 

name=

"can_focus"

>

True

</property>


                

<property

 

name=

"receives_default"

>

True

</property>


                

<property

 

name=

"use_stock"

>

True

</property>


                

<signal

 

name=

"clicked"

 

handler=

"on_close_button_clicked"

 

swapped=

"no"

/>


              

</object>


              

<packing>


                

<property

 

name=

"expand"

>

True

</property>


                

<property

 

name=

"fill"

>

True

</property>


                

<property

 

name=

"position"

>

0

</property>


              

</packing>


            

</child>


          

</object>


          

<packing>


            

<property

 

name=

"expand"

>

False

</property>


            

<property

 

name=

"fill"

>

False

</property>


            

<property

 

name=

"position"

>

0

</property>


          

</packing>


        

</child>


      

</object>


    

</child>


    

<child>


      

<placeholder/>


    

</child>


  

</object>




</interface>



#!/usr/bin/python




# -*- coding: utf-8 -*-





import

 

gi




gi

.

require_version

(

"Gtk"

,

 

"3.0"

)




from

 

gi.repository

 

import

 

Gtk






class

 

Handler

:



    

def

 

on_window_destroy

(

self

,

 

*

args

):


        

Gtk

.

main_quit

()



    

def

 

on_info_button_clicked

(

self

,

 

widget

):


        

x

.

sb_message

(

"Öffne Info-Dialog"

)


        

x

.

builder

.

get_object

(

"about_dialog"

)

.

show_all

()



    

def

 

on_close_button_clicked

(

self

,

 

widget

):


        

x

.

sb_message

(

"Schließe Info-Dialog"

)


        

x

.

builder

.

get_object

(

"about_dialog"

)

.

hide_on_delete

()



    

def

 

on_nothing_here

(

self

,

 

widget

):


        

x

.

sb_message

(

"

{}

: Widget hat keine Funktion."

.

format

(

widget

))






class

 

Example

:



    

def

 

__init__

(

self

):



        

self

.

builder

 

=

 

Gtk

.

Builder

()


        

self

.

builder

.

add_from_file

(

"05_menutoolbar.glade"

)


        

self

.

builder

.

connect_signals

(

Handler

())



        

window

 

=

 

self

.

builder

.

get_object

(

"window"

)


        

window

.

show_all

()



    

def

 

sb_message

(

self

,

message

):


        

self

.

builder

.

get_object

(

"statusbar"

)

.

push

(

0

,

 

message

)



    

def

 

main

(

self

):


        

Gtk

.

main

()






x

 

=

 

Example

()




x

.

main

()