Exterminate!
The VTE terminal widget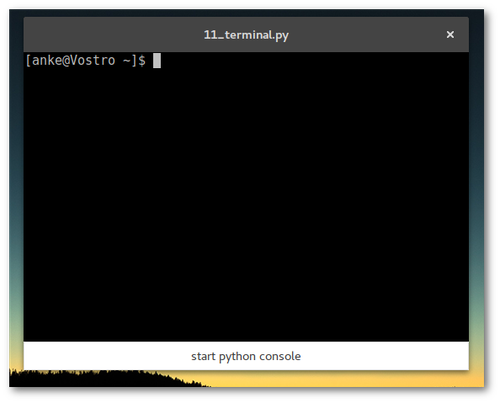 The widget can be found in the lower part of the widget side bar and provides a complete terminal emulator. To close the window on the exit command the child-exited signal has to be assigned.
A button click shall open a Python prompt within the terminal window, so we need the familiar clicked signal.
Elements used in Glade that are not part of the Gtk module have to be registered as a GObject object (this is also required when using a GtkSourceView widget as the functionality is provided by the GtkSource module):
GObject.type_register(Vte.Terminal)

The terminal emulator is initiated by calling spawn_sync expecting 7 parameters. Detailed information on the parameters are available in the documentation but for a common start a lot of defaults and Nones will do:
terminal.spawn_sync(
        Vte.PtyFlags.DEFAULT,
        None,
        ["/bin/bash"],
        None,
        GLib.SpawnFlags.DEFAULT,
        None,
        None,
        )

The feed_child function must be called to send a command to the console. The expected parameters are the string including a newline and the length of the string:
command = "python\n"
x.terminal.feed_child(command,len(command))

<?xml version="1.0" encoding="UTF-8"?>
<!-- Generated with glade 3.20.0 -->
<interface>
  <requires lib="gtk+" version="3.20"/>
  <requires lib="vte-2.91" version="0.46"/>
  <object class="GtkApplicationWindow" id="window">
    <property name="can_focus">False</property>
    <signal name="destroy" handler="on_window_destroy" swapped="no"/>
    <child>
      <object class="GtkBox">
        <property name="visible">True</property>
        <property name="can_focus">False</property>
        <property name="orientation">vertical</property>
        <child>
          <object class="VteTerminal" id="term">
            <property name="visible">True</property>
            <property name="can_focus">True</property>
            <property name="has_focus">True</property>
            <property name="hscroll_policy">natural</property>
            <property name="vscroll_policy">natural</property>
            <property name="encoding">UTF-8</property>
            <property name="scroll_on_keystroke">True</property>
            <property name="scroll_on_output">False</property>
            <signal name="child-exited" handler="on_window_destroy" swapped="no"/>
          </object>
          <packing>
            <property name="expand">False</property>
            <property name="fill">True</property>
            <property name="position">0</property>
          </packing>
        </child>
        <child>
          <object class="GtkButton" id="button">
            <property name="label" translatable="yes">start python console</property>
            <property name="visible">True</property>
            <property name="can_focus">True</property>
            <property name="receives_default">True</property>
            <signal name="clicked" handler="on_button_clicked" swapped="no"/>
          </object>
          <packing>
            <property name="expand">False</property>
            <property name="fill">False</property>
            <property name="position">2</property>
          </packing>
        </child>
      </object>
    </child>
    <child type="titlebar">
      <placeholder/>
    </child>
  </object>
</interface>

#!/usr/bin/python
# -*- coding: utf-8 -*-

import os

import gi
gi.require_version("Gtk", "3.0")
gi.require_version("Vte", "2.91")
from gi.repository import Gtk, Vte, GObject, GLib


class Handler:

    def on_window_destroy(self, *args):
        Gtk.main_quit()

    def on_button_clicked(self, widget):
        command = "python\n"
        x.terminal.feed_child(command.encode())


class Example:

    def __init__(self):

        self.builder = Gtk.Builder()
        GObject.type_register(Vte.Terminal)

        self.builder.add_from_file("11_terminal.glade")
        self.builder.connect_signals(Handler())

        self.terminal = self.builder.get_object("term")
        self.terminal.spawn_sync(
            Vte.PtyFlags.DEFAULT,
            None,
            ["/bin/bash"],
            None,
            GLib.SpawnFlags.DEFAULT,
            )

        window = self.builder.get_object("window")
        window.show_all()

    def main(self):
        Gtk.main()


x = Example()
x.main()

Comments powered by Disqus