Mediaplayer mit GStreamer
Mediaplayer mit GStreamer 1.x realisieren
GStreamer ist ein Multimedia-Framework, das zum Anzeigen und (De-)Kodieren von Mediendateien verwendet werden kann.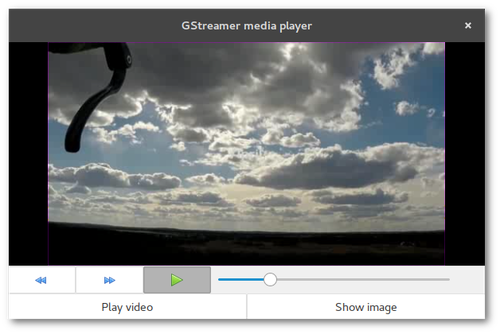 Darstellungsbereich der Mediendatei: Widget Gtk.DrawingArea
Steuerungselemente: Vor-/Zurückspulen (Gtk.utton), Pause (Gtk.Togglebutton)
Medienauswahl: Buttons, um Video- oder Bilddatei anzuzeigen
GStreamer handhabt alle möglichen Arten von Medienflüssen. Jeder Schritt in dieser Verarbeitungskette wird per Element definiert und in Pipelines verbunden. Eine solche Pipeline besteht typischerweise aus "source"-, "filter"-/"decode"- und "sink"-Elementen.
------------------------------------------------------
|  Pipeline                                          |
|                                                    |
|  -------------   ----------------   -------------- |
|  | source    |   | filter       |   | sink       | |
|  |           |->>| decoder      |->>|            | |
|  | Quelle    |   | Verarbeitung |   | Ausgabe    | |
|  -------------   ----------------   -------------- |
------------------------------------------------------

Nach diesem Prinzip wird dies mittels Gst-Modul umgesetzt:
# init Gst and create pipeline
Gst.init()
pipeline = Gst.Pipeline()

# create elements
src = Gst.ElementFactory.make("filesrc", "source")
decode = Gst.ElementFactory.make("decodebin", "decode")
sink = Gst.ElementFactory.make("xvimagesink")

# configure elements
src.set_property("location", file_location)

# add elements to pipeline
pipeline.add(src)
pipeline.add(decode)
pipeline.add(sink)

#link elements together
src.link(decode)
decode.link(sink)

Es besteht auch beispielsweise die Möglichkeit, Audio- und Videosignale voneinander getrennt werden, indem jeweils ein "videosink" und ein "audiosink" erstellt usw. Auf der anderen Seite gibt es vorgefertigte Pipelines für Standardaufgaben wie etwa das Abspielen von Medien. Ein solches Element ist "playbin", das den Code signifikant vereinfacht:
Gst.init(None)
player = Gst.ElementFactory.make("playbin", "player")
sink = Gst.ElementFactory.make("xvimagesink")
player.set_property("uri", uri_of_file)
player.set_property("video-sink", sink)

Eine Pipeline oder ein "playbin"-Element können nun über Gst.STATE gesteuert werden:
player.set_state(Gst.State.PLAYING)
player.set_state(Gst.State.PAUSED)

Die Fortschrittsanzeige ist an dieser Stelle keine Gtk.ProgressBar sondern eine horizontale GtkScale. Mit diesem Widget lässt sich nicht nur eine Position anzeigen, sondern auch per Maus setzen. Für letzteres wird das Signal value-changed benötigt. Streng genommen ist das Signal change-value an dieser Stelle die sauberere Lösung, die im nachfolgenden Beitrag zur Umsetzung des Mediaplayers mit LibVLC verwendet wird.
Bei der Einarbeitung in GStreamer stolpert man (an dieser Stelle generalisiert die Autorin weitgehend und möglicherweise unbegründet) über diverse Hürden:
Es gibt eine Reihe von Tutorials. Die Umsetzung wird durch zwei Umstände erschwert:
Die primäre Sprache von und mit GStreamer ist C. Mit Python steht man eher auf experimentellem Boden.
Durch die Versionssprünge sowohl bei GStreamer (von 0.10 auf 1.x) als auch Python (2.x auf 3.x) funktionieren viele ältere Anleitungen nicht mehr ohne weiteres.
Es gibt weiterhin Effekte, die sich nicht erschließen. Das in diesem Artikel aufgeführte Beispiel funktioniert nicht, wenn das Fenster eine Headerbar enthält. Des Weiteren ist die Videodarstellung unter Wayland fehlerhaft (Audio läuft). Beide Probleme sind mit der Verwendung von "gtksink" lösbar.
19_gst_simpleplayer.py (Source)
#!/usr/bin/env python
# -*- coding: utf-8 -*-

import os
import time

import gi
gi.require_version("Gtk", "3.0")
gi.require_version("Gst", "1.0")
gi.require_version("GstVideo", "1.0")
from gi.repository import Gst, Gtk, GLib, GstVideo


class GenericException(Exception):
    pass


class Handler:

    def on_window_destroy(self, *args):
        Gtk.main_quit()

    def on_playpause_togglebutton_toggled(self, widget):
        if app.playpause_button.get_active():
            img = Gtk.Image.new_from_icon_name(Gtk.STOCK_MEDIA_PLAY,
                                               Gtk.IconSize.BUTTON)
            widget.set_property("image", img)
            app.pause()
        else:
            img = Gtk.Image.new_from_icon_name(Gtk.STOCK_MEDIA_PAUSE,
                                               Gtk.IconSize.BUTTON)
            widget.set_property("image", img)
            app.play()

    def on_forward_clicked(self, widget):
        app.skip_time()

    def on_backward_clicked(self, widget):
        app.skip_time(-1)

    def on_progress_value_changed(self, widget):
        app.on_slider_seek

    def on_vbutton_clicked(self, widget):
        app.clear_playbin()
        app.setup_player("mediaplayer.avi")
        if app.playpause_button.get_active() is True:
            app.playpause_button.set_active(False)
        else:
            app.play()

    def on_ibutton_clicked(self, widget):
        app.clear_playbin()
        app.setup_player("mediaplayer.jpg")
        app.pause()


class GstPlayer:

    def __init__(self):

        # init GStreamer
        Gst.init(None)

        # setting up builder
        builder = Gtk.Builder()
        builder.add_from_file("19_gst_player.glade")
        builder.connect_signals(Handler())

        self.movie_window = builder.get_object("play_here")
        self.playpause_button = builder.get_object("playpause_togglebutton")
        self.slider = builder.get_object("progress")
        self.slider_handler_id = self.slider.connect("value-changed", self.on_slider_seek)

        window = builder.get_object("window")
        window.show_all()

        # setting up videoplayer
        self.player = Gst.ElementFactory.make("playbin", "player")
        self.sink = Gst.ElementFactory.make("xvimagesink")
        self.sink.set_property("force-aspect-ratio", True)

    def setup_player(self,f):
        # file to play must be transmitted as uri
        uri = "file://" + os.path.abspath(f)
        self.player.set_property("uri", uri)

        # make playbin play in specified DrawingArea widget instead of
        # separate, GstVideo needed
        win_id = self.movie_window.get_property("window").get_xid()
        self.sink.set_window_handle(win_id)
        self.player.set_property("video-sink", self.sink)

    def play(self):
        self.is_playing = True
        self.player.set_state(Gst.State.PLAYING)
        #starting up a timer to check on the current playback value
        GLib.timeout_add(1000, self.update_slider)

    def pause(self):
        self.is_playing = False
        self.player.set_state(Gst.State.PAUSED)

    def current_position(self):
        status,position = self.player.query_position(Gst.Format.TIME)
        return position

    def skip_time(self,direction=1):
        #skip 20 seconds on forward/backward button
        app.player.seek_simple(Gst.Format.TIME,  Gst.SeekFlags.FLUSH | Gst.SeekFlags.KEY_UNIT, self.current_position() + float(20) * Gst.SECOND * direction )

    def update_slider(self):
        if not self.is_playing:
            return False # cancel timeout
        else:
            success, self.duration = self.player.query_duration(Gst.Format.TIME)
            # adjust duration and position relative to absolute scale of 100
            self.mult = 100 / (self.duration / Gst.SECOND)
            if not success:
                raise GenericException("Couldn't fetch duration")
            # fetching the position, in nanosecs
            success, position = self.player.query_position(Gst.Format.TIME)
            if not success:
                raise GenericException("Couldn't fetch current position to update slider")

            # block seek handler so we don't seek when we set_value()
            self.slider.handler_block(self.slider_handler_id)
            self.slider.set_value(float(position) / Gst.SECOND * self.mult)
            self.slider.handler_unblock(self.slider_handler_id)
        return True # continue calling every x milliseconds

    def on_slider_seek(self, widget):
        seek_time = app.slider.get_value()
        self.player.seek_simple(Gst.Format.TIME,  Gst.SeekFlags.FLUSH | Gst.SeekFlags.KEY_UNIT, seek_time * Gst.SECOND / self.mult)

    def clear_playbin(self):
        try:
            self.player.set_state(Gst.State.NULL)
        except:
            pass

    def main(self):
        Gtk.main()


app = GstPlayer()
app.main()

<?xml version="1.0" encoding="UTF-8"?>
<!-- Generated with glade 3.20.0 -->
<interface>
  <requires lib="gtk+" version="3.16"/>
  <object class="GtkAdjustment" id="adjustment">
    <property name="upper">100</property>
    <property name="step_increment">1</property>
    <property name="page_increment">10</property>
  </object>
  <object class="GtkImage" id="image1">
    <property name="visible">True</property>
    <property name="can_focus">False</property>
    <property name="stock">gtk-media-rewind</property>
  </object>
  <object class="GtkImage" id="image2">
    <property name="visible">True</property>
    <property name="can_focus">False</property>
    <property name="stock">gtk-media-forward</property>
  </object>
  <object class="GtkImage" id="image3">
    <property name="visible">True</property>
    <property name="can_focus">False</property>
    <property name="stock">gtk-media-pause</property>
  </object>
  <object class="GtkWindow" id="window">
    <property name="can_focus">False</property>
    <property name="title" translatable="yes">GStreamer media player</property>
    <property name="default_width">600</property>
    <property name="default_height">350</property>
    <signal name="destroy" handler="on_window_destroy" swapped="no"/>
    <child>
      <object class="GtkBox" id="box1">
        <property name="visible">True</property>
        <property name="can_focus">False</property>
        <property name="orientation">vertical</property>
        <child>
          <object class="GtkDrawingArea" id="play_here">
            <property name="visible">True</property>
            <property name="can_focus">False</property>
          </object>
          <packing>
            <property name="expand">True</property>
            <property name="fill">True</property>
            <property name="position">0</property>
          </packing>
        </child>
        <child>
          <object class="GtkSeparator" id="separator1">
            <property name="visible">True</property>
            <property name="can_focus">False</property>
          </object>
          <packing>
            <property name="expand">False</property>
            <property name="fill">True</property>
            <property name="position">1</property>
          </packing>
        </child>
        <child>
          <object class="GtkBox" id="box3">
            <property name="visible">True</property>
            <property name="can_focus">False</property>
            <child>
              <object class="GtkButtonBox" id="buttonbox1">
                <property name="visible">True</property>
                <property name="can_focus">False</property>
                <property name="layout_style">start</property>
                <child>
                  <object class="GtkButton" id="backward">
                    <property name="visible">True</property>
                    <property name="can_focus">True</property>
                    <property name="receives_default">True</property>
                    <property name="image">image1</property>
                    <property name="always_show_image">True</property>
                    <signal name="clicked" handler="on_backward_clicked" swapped="no"/>
                  </object>
                  <packing>
                    <property name="expand">True</property>
                    <property name="fill">True</property>
                    <property name="position">0</property>
                  </packing>
                </child>
                <child>
                  <object class="GtkButton" id="forward">
                    <property name="visible">True</property>
                    <property name="can_focus">True</property>
                    <property name="receives_default">True</property>
                    <property name="image">image2</property>
                    <property name="always_show_image">True</property>
                    <signal name="clicked" handler="on_forward_clicked" swapped="no"/>
                  </object>
                  <packing>
                    <property name="expand">True</property>
                    <property name="fill">True</property>
                    <property name="position">1</property>
                  </packing>
                </child>
                <child>
                  <object class="GtkToggleButton" id="playpause_togglebutton">
                    <property name="visible">True</property>
                    <property name="can_focus">True</property>
                    <property name="receives_default">True</property>
                    <property name="image">image3</property>
                    <signal name="toggled" handler="on_playpause_togglebutton_toggled" swapped="no"/>
                  </object>
                  <packing>
                    <property name="expand">True</property>
                    <property name="fill">True</property>
                    <property name="position">2</property>
                  </packing>
                </child>
              </object>
              <packing>
                <property name="expand">False</property>
                <property name="fill">False</property>
                <property name="position">0</property>
              </packing>
            </child>
            <child>
              <object class="GtkScale" id="progress">
                <property name="width_request">300</property>
                <property name="visible">True</property>
                <property name="can_focus">True</property>
                <property name="halign">center</property>
                <property name="margin_left">5</property>
                <property name="margin_right">5</property>
                <property name="adjustment">adjustment</property>
                <property name="fill_level">100</property>
                <property name="round_digits">1</property>
                <property name="draw_value">False</property>
              </object>
              <packing>
                <property name="expand">False</property>
                <property name="fill">False</property>
                <property name="position">1</property>
              </packing>
            </child>
          </object>
          <packing>
            <property name="expand">False</property>
            <property name="fill">True</property>
            <property name="position">2</property>
          </packing>
        </child>
        <child>
          <object class="GtkBox" id="box2">
            <property name="visible">True</property>
            <property name="can_focus">False</property>
            <property name="homogeneous">True</property>
            <child>
              <object class="GtkButton" id="vbutton">
                <property name="label" translatable="yes">Play video</property>
                <property name="visible">True</property>
                <property name="can_focus">True</property>
                <property name="receives_default">True</property>
                <signal name="clicked" handler="on_vbutton_clicked" swapped="no"/>
              </object>
              <packing>
                <property name="expand">True</property>
                <property name="fill">True</property>
                <property name="position">0</property>
              </packing>
            </child>
            <child>
              <object class="GtkButton" id="ibutton">
                <property name="label" translatable="yes">Show image</property>
                <property name="visible">True</property>
                <property name="can_focus">True</property>
                <property name="receives_default">True</property>
                <signal name="clicked" handler="on_ibutton_clicked" swapped="no"/>
              </object>
              <packing>
                <property name="expand">True</property>
                <property name="fill">True</property>
                <property name="position">1</property>
              </packing>
            </child>
          </object>
          <packing>
            <property name="expand">False</property>
            <property name="fill">True</property>
            <property name="position">3</property>
          </packing>
        </child>
      </object>
    </child>
    <child>
      <placeholder/>
    </child>
  </object>
</interface>

Comments powered by Disqus